Partner Robert Neal
Queer Places:
Pendarvis, 114 Shakerag St, Mineral Point, WI 53565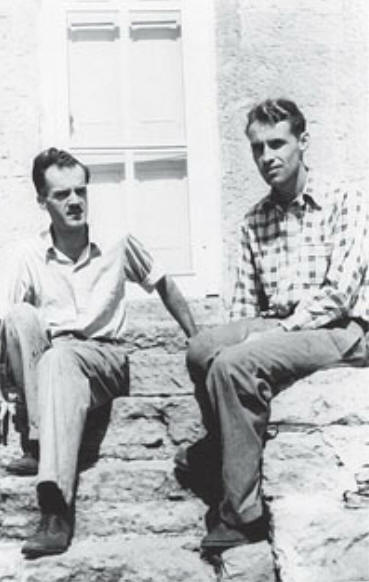 Edgar Gorby Hellum (February 25, 1906 - March 19, 2000), of Norwegian descent, would gain fame as a designated Cornish Bard (an old Celtic honor bestowed by a society in the United Kingdom charged with preserving Cornish language and culture). His and Robert Neal's success and genuine involvement in their community was undeniable.
Hellum portrayed himself as a "country boy" even though he had studied at the Art Institute of Chicago, while Neal portrayed himself as an art lover who liked ballet and the opera. In reality, however, Hellum's art was acknowledged in exhibits at the Wisconsin Historical Society Museum and at the Art Institute.
Pendarvis is a historic site located in Mineral Point, Iowa County, Wisconsin. The site, which is listed on the National Register of Historic Places, is made up of several 19th century cabins built by Cornish immigrants who came to Mineral Point to mine lead. Today the site is owned by the Wisconsin Historical Society and serves as a museum of Wisconsin's early lead mining history.[2] Programs at the site also interpret the groundbreaking preservation work by Robert Neal and Edgar Hellum, begun during the Great Depression.[3]
In the 1920s and 1930s, many of the old cabins built by the Cornish miners were being torn down. Seeing this, a local resident named Robert Neal, together with Edgar Hellum, began to acquire and restore several of the old Cornish buildings. Neal and Hellum also gave Cornish-language names to each of the buildings they restored. They called their first project, a 1-story stone cabin, Pendarvis. In order to support the restoration of other buildings, Pendarvis House was turned into a restaurant serving authentic Cornish dishes such as Cornish pasty. The Pendarvis House Restaurant received wide acclaim, and helped finance Neal and Hellum's restoration of even more historic Cornish homes in Mineral Point.[4]
The collection of buildings restored by Neal and Hellum was transferred to the Wisconsin Historical Society in 1970. A year later, they were opened to the public as the Pendarvis Historic Site. In addition to the cottages, the Wisconsin Historical Society acquired several acres of land on nearby Merry Christmas Mine Hill, the site of a historic zinc mine. Remnants of the mining activity are still visible, but much of the hill has been restored to natural prairie. Visitors to the site can explore the hill on a number of foot trails. The historic buildings are shown to the visiting public seasonally as a museum preserving the history of the region's mining industry and the lives of the miners who first developed the site. Many artifacts are on display in the buildings, including authentic mining tools and household items.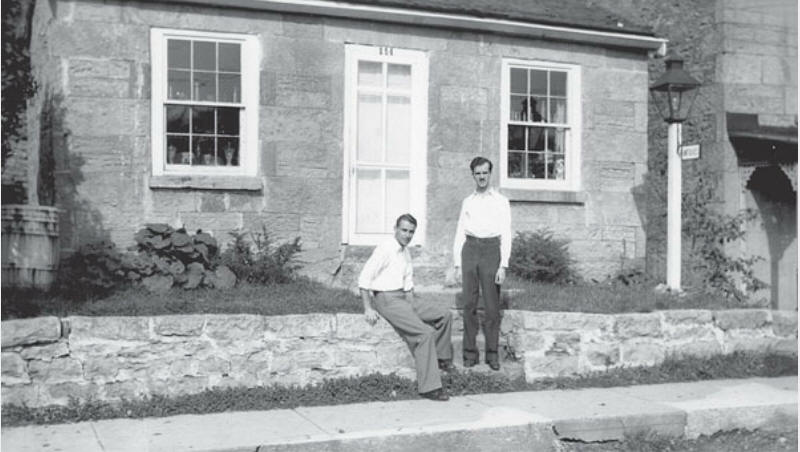 Edgar Hellum (left) and Bob Neal pose in front of the Pendarvis House, one of several buildings they restored in Mineral Point. MINERAL POINT LIBRARY ARCHIVES

John Cook House
After they sold the Pendarvis complex in the 1970s, Neal and Hellum lived separately. Whether this was a result of their growing apart or the need to obscure the nature of their relationship is not known for sure. Later in life, Hellum would recall that Neal's relatives had treated him "just like I was a member of the family." That their relationship remained strong and loving even after they sold Pendarvis was made apparent when Neal became sick and Hellum took him in: "We set up a bed and I took care of him for two years." Hellum remembered telling Neal, "You sure as hell don't want to go to a nursing home. I said if I have to crawl on my hands and knees [I'll] look after you as long as I'm able."
When Neal died in 1983, some stories and obituaries noted that his partner survived him; others did not. When Hellum died in 2000, all notices stated that he had been predeceased by his partner.
---
My published books:


---
Wagner, R. Richard. We've Been Here All Along . Wisconsin Historical Society Press. Edizione del Kindle.