Queer Places:
The White House, Badingham, Woodbridge IP13 8JN, UK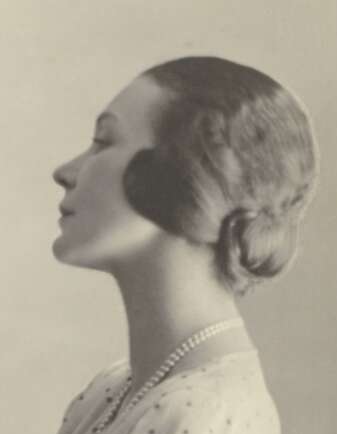 Doris Clare Zinkeisen (31 July 1898 – 3 January 1991) was a Scottish theatrical stage and costume designer, painter, commercial artist, and writer. She was best known for her work in theatrical design.
Doris Zinkeisen was born in Clynder House in Rosneath, Argyll, Scotland.[4] Her parents were Welsh-born Clare Bolton-Charles and Victor Zinkeisen, a timber merchant and amateur artist from Glasgow.[2] Her father's family were originally from Bohemia and had been settled in Scotland for two hundred years.[3] She had a younger sister, Anna Zinkeisen, who also became an artist.[2] The family left Scotland and moved to Pinner, near Harrow in 1909.[1] Zinkeisen attended the Harrow School of Art for four years and won a scholarship to the Royal Academy Schools in 1917 together with her sister Anna.[1][2]
Zinkeisen shared a studio in London with her sister during the 1920s and 1930s from where she embarked on her career as a painter, commercial artist, and theatrical designer.[1]
Zinkeisen's realist style made her popular as a portraitist and she became a well-known society painter.[2][5] The subject matter of her paintings, society portraiture, equestrian portraiture, and scenes from the parks of London and Paris reflect the lifestyle of the upper class at the time. She also worked widely in other media as an illustrator and commercial artist including producing advertising posters for several British mainline railway companies and murals for the RMS Queen Mary.[1][6][7] A 1939 poster for the London Underground, At the Theatre, was printed but never issued due to the start of World War II.[8] In 1944, Doris and her sister Anna were commissioned by United Steel Companies (USC) to produce twelve paintings that were reproduced in the trade and technical press in Britain, Canada, Australia and South Africa. The images were subsequently collated in a book, This Present Age, published in 1946.[9]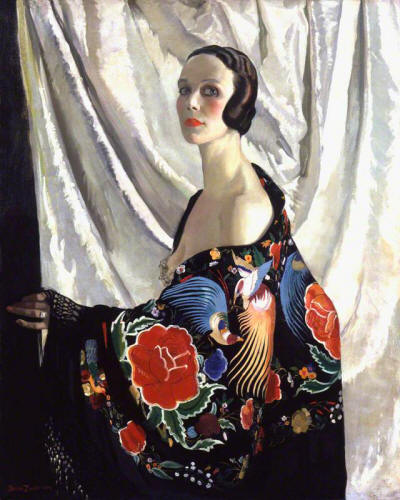 Doris Clare Zinkeisen, by Doris Clare Zinkeisen (1898–1991), National Portrait Gallery, London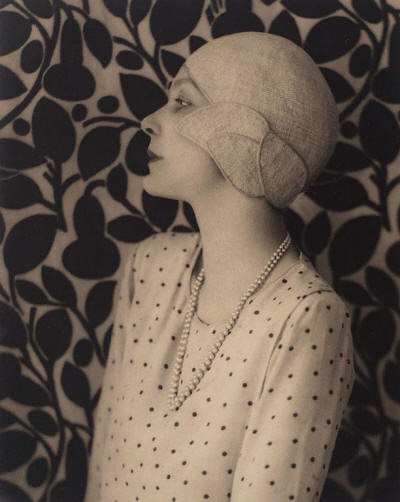 Doris Zinkeisen: New Idea portrait with leaf background (1929) by Harold Cazneaux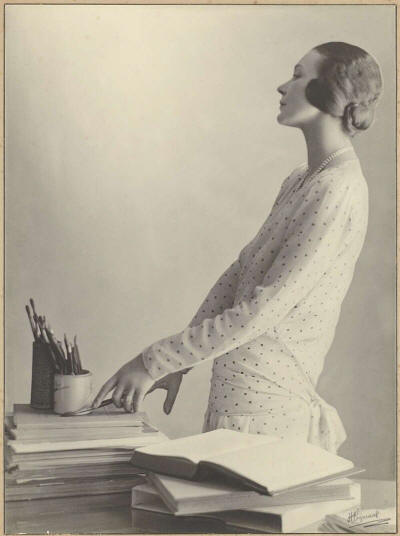 Doris Zinkeisen with her brushes (1929) by Harold Cazneaux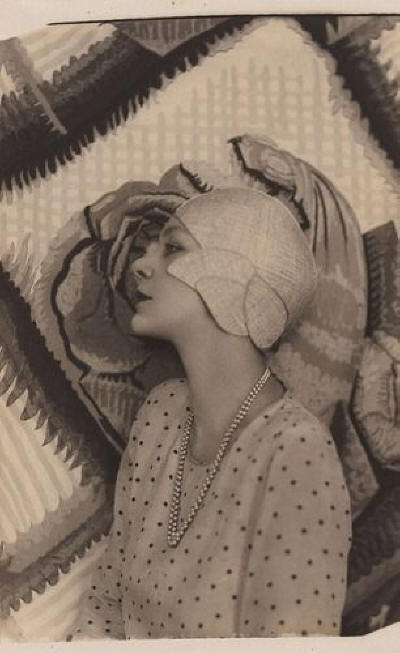 Doris Zinkeisen: New Idea portrait with patterned background (1929) by Harold Cazneaux

Portrait of Miss Sanders Watney, by Doris Zinkeisen (Helen Marjorie Watney, née Guthrie, was the wife of a director at the brewers Watneys, Coombe and Reed.)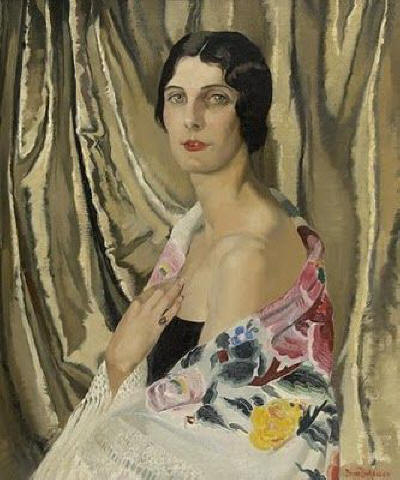 Portrait of Margaret Duncan, by Doris Zinkeisen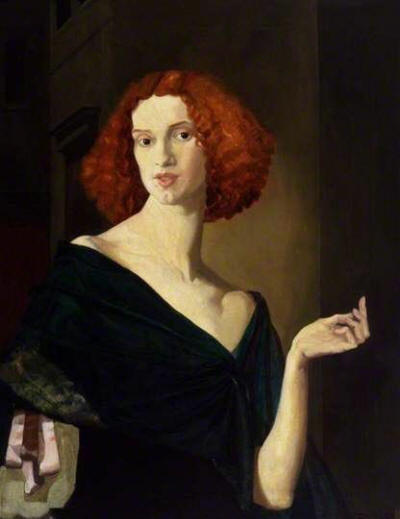 Elsa Lanchester, 1925, by Doris Zinkeisen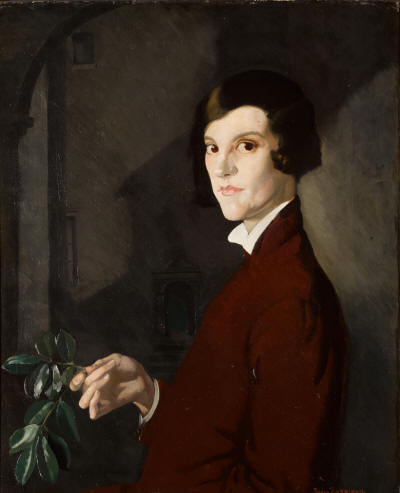 Edith Weaver, by Doris Zinkeisen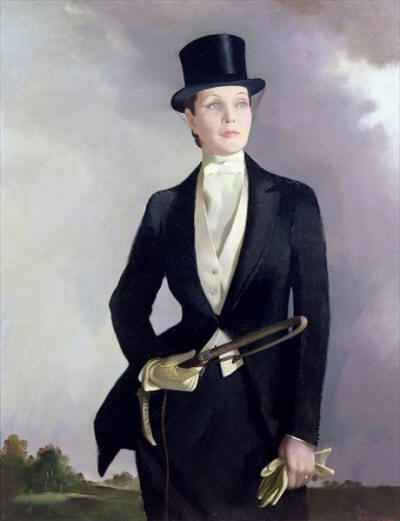 Madame de Pompadour, by Doris Zinkeisen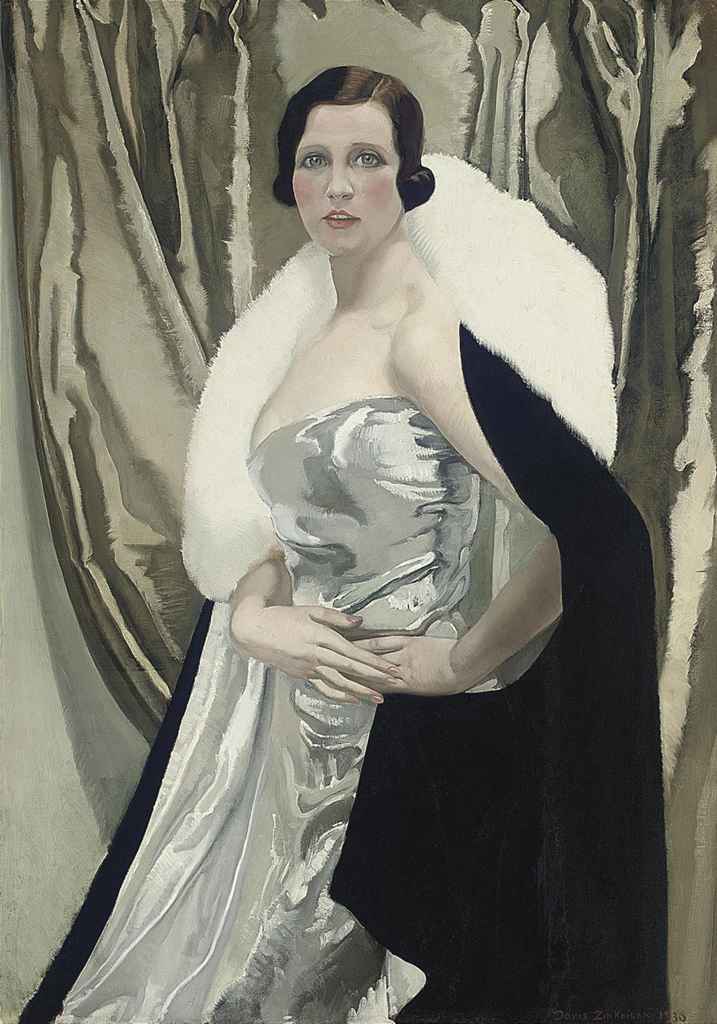 In 1922, while working with Nigel Playfair, Zinkeisen met James Whale. The two were considered a couple for some two years, despite Whale's living as an openly gay man. The couple was reportedly engaged in 1924 but by 1925 the engagement was off.[50] Zinkeisen married Edward Grahame Johnstone, a naval officer in 1927[1][3] and had twin daughters in June 1928, the children's book illustrators Janet and Anne Grahame Johnstone[51] and a son, Murray Johnstone. Zinkeisen was a fine horsewoman and won the Moscow Cup at the International Horse Show in 1934.[52] Grahame Johnstone died in 1946 and Zinkeisen's twin girls then lived with their mother moving with her to Suffolk in 1966.[51][53]
After the Second World War both sisters relocated from London to the comparative serenity of Suffolk - Doris set up home in Badingham, just outside Framlingham and Anna in Woodbridge. Zinkeisen outlived her daughter Janet who died in an accident in 1979.[53] Doris Zinkeisen died on 3 January 1991, in Badingham, Suffolk, aged 92.[2]
Harold Cazneaux produced three photographic portraits of Zinkeisen in 1929 in his role as chief photographer for The Home magazine; Doris Zinkeisen: New Idea portrait with patterned background, Doris Zinkeisen: New Idea portrait with leaf background, and Doris Zinkeisen with her brushes.[46] Doris Zinkeisen: New Idea portrait with leaf background was the first photographic cover for The Home that was launched in Sydney in 1920 and modelled on the American magazines Vanity Fair and House & Garden.[47][48] Zinkeisen was said to have epitomised the "New Feminine Beauty" described by The Home in 1929 as "stark simplicity of line, of corners, angles, slimness, sharpness ... twenty years ago we were born curvy and now we are born straight."[49] The leaf background was painted by the Australian artist Adrian Feint.[46] The photographs are part of the Art Gallery of New South Wales' Cazneaux collection.[46]
---
My published books:


---