Queer Places:
Ethical Culture Fieldston School, 3901 Fieldston Rd, Bronx, NY 10471, Stati Uniti
The New School, 72 5th Ave, New York, NY 10011, Stati Uniti
Westbeth Artists Housing, 55 Bethune St, New York, NY 10014
Ferncliff Cemetery, 280 Secor Rd, Hartsdale, NY 10530, Stati Uniti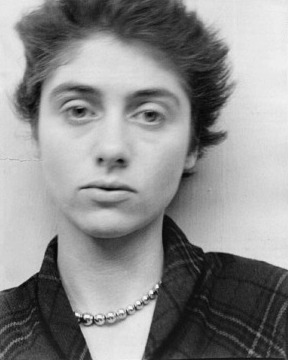 Diane Arbus (March 14, 1923 – July 26, 1971) was an American photographer noted for photographs of marginalized people—dwarfs, giants, transgender people, nudists, circus performers—and others whose normality was perceived by the general populace as ugly or surreal.[2][3][4][5][6] Her work has been described as consisting of formal manipulation characterized by blatant sensationalism.[7]
In 1972, a year after she died by suicide (there exists a popular cliche of her being the Sylvia Plath of photographers),[7][8] Arbus became the first American photographer to have photographs displayed at the Venice Biennale.[9] Millions viewed traveling exhibitions of her work in 1972–1979.[10][11] The book accompanying the exhibition, Diane Arbus: An Aperture Monograph, edited by Doon Arbus and Marvin Israel and first published in 1972 was still in print by 2006, having become the best selling photography monograph ever.[12] Between 2003 and 2006, Arbus and her work were the subjects of another major traveling exhibition, Diane Arbus Revelations.[13] In 2006, the motion picture Fur, starring Nicole Kidman as Arbus, presented a fictional version of her life story.[14]
Arbus was born Diane Nemerov to David Nemerov and Gertrude Russek Nemerov,[5][15] a Jewish couple who lived in New York City and owned Russek's, a famous Fifth Avenue department store.[15][16] Because of her family's wealth, Arbus was insulated from the effects of the Great Depression while growing up in the 1930s.[15] Her father became a painter after retiring from Russek's; her younger sister would become a sculptor and designer; and her older brother, Howard Nemerov, a professor of English at Washington University in St. Louis, would later become United States Poet Laureate and the father of the Americanist art historian Alexander Nemerov.[5]
Diane Nemerov attended the Fieldston School for Ethical Culture, a prep school.[13] In 1941, at the age of eighteen, she married her childhood sweetheart Allan Arbus,[5] whom she had dated since age 14.[17] Their first daughter, Doon, who would later become a writer, was born in 1945; their second daughter, Amy, who would later become a photographer, was born in 1954.[5] Arbus and her husband worked together. After long hours in the studio, Diane would rush home to cook dinner for Allan and their two daughters. Allan was very supportive of Diane, even after she quit commercial photography and she began developing an independent relationship to photography.[18]
Diane and Allan Arbus separated in 1959, and were divorced in 1969.[19] They still remained close because of their daughters. Allan would come over for Sunday breakfast and he continued to develop Diane's film.[18]
Diane began a relationship with art director and painter Marvin Israel that would last roughly ten years, until the time of her death. He was married and made clear to Arbus that he was never going to leave his wife. He pushed Arbus very hard regarding her work.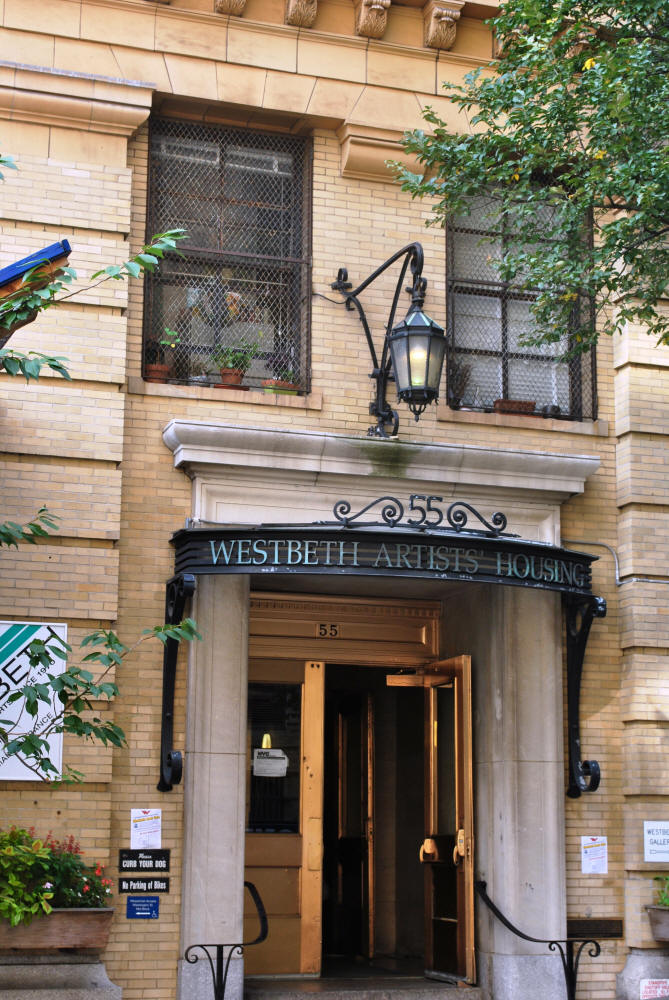 Westbeth Artists Housing, 55 Bethune St, New York, NY 10014
Arbus experienced "depressive episodes" during her life similar to those experienced by her mother, and the episodes may have been made worse by symptoms of hepatitis.[5] Arbus wrote in 1968, "I go up and down a lot", and her ex-husband noted that she had "violent changes of mood". On July 26, 1971, while living at Westbeth Artists Community in New York City, Arbus took her own life by ingesting barbiturates and slashing her wrists with a razor.[4] She wrote the words "Last Supper" in her diary and placed her appointment book on the stairs leading up to the bathroom. Marvin Israel found her body in the bathtub two days later; she was 48 years old.[4][5] Photographer Joel Meyerowitz told journalist, Arthur Lubow, "If she was doing the kind of work she was doing and photography wasn't enough to keep her alive, what hope did we have?"[18]
Her ashes were buried at Ferncliff Cemetery, but no record exists at the cemetery.[44]
Without a will, responsibility of Arbus' work went to her daughter, Doon.[45] Doon had her work displayed in the Venice Biennale and a posthumous retrospective at MoMA just over a year after her mother's death.[46][47]
---
My published books:


---
https://en.wikipedia.org/wiki/Diane_Arbus