Queer Places:
Har HaMenuchot Cemetery Jerusalem, Jerusalem District, Israel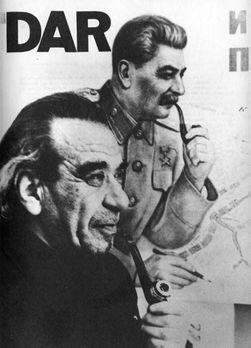 David Yakovlevich Ryvkin (October 24, 1910 - September 16, 1980), a notable Russian science-fiction writer and poet, who wrote under the pseudonym of David Dar, was a Russian Jewish, born in St. Petersburg. He came out as gay after emigrating from the USSR.
In 1945 Vera Panova, a Soviet novelist, playwright, and journalist, married David Yakovlevich Ryvkin. Together with her husband and his 2 children and her own family she returned to Leningrad.[3]
David Dar was a member of Citizens, a literary group which appeared at the end of 1964 with the intention of preparing a collection of prose under the same name. The participants were: V. V. Vakhtin, V. A. Gubin, I. M. Efimov, V. R. Maramzin.
From 1968 to 1973 Gennady Nikolaevich Trifonov worked as the literary secretary of the writers Vera Panova and her husband, David Dar, the latter was also gay. Dar's and Panova's fame and status may have shielded Trifonov from KGB harassment. After Panova's death, however, the KGB heard that he had written articles on underground literature. Trifonov had begun writing in 1960, but he was not published in Russia until 1988. His verse made its way to the West beginning in the early 1970s, being published in English translation mostly in the United States. When he requested permission to emigrate to the United States in 1975, Trifonov attracted the attention of the KGB.
He died in Jerusalem.
---
My published books:


---