Partner Olga von Roeder, buried together
Queer Places:
Regensburger Str. 33, 10777 Berlin, Germany
Pragfriedhof, Friedhofstraße 44, 70191 Stuttgart, Germania
Claire Waldoff (21 October 1884 – 22 January 1957), born Clara Wortmann, was a German singer. She was a famous kabarett singer and entertainer in Berlin during the 1910s and 1920s, chiefly known for performing ironic songs in the Berlinish dialect and lesbian undertones and themes. She has been romantically linked to Marlene Dietrich.
Wortmann was born the eleventh child of 16 in Gelsenkirchen, Westphalia, where her parents owned a tavern. After completing Gymnasium school in Hanover, she trained as an actress and chose as her pseudoynm Claire Waldoff. In 1903, she got her first theatre jobs in Bad Pyrmont and in Kattowitz (Katowice), Silesia. In 1906, Waldoff went to Berlin, where she performed at the Figaro-Theater on Kurfürstendamm. In 1907, she also began a working as a cabaret singer.
She made her breakthrough, when Rudolf Nelson gave her a job at the Roland von Berlin theatre near Potsdamer Platz. Initially planning to perform antimilitarist pieces by Paul Scheerbart in a men's suit, Waldoff had greater success with less offensive catchy songs written by Walter Kollo. During the next several years in German cabaret, she sang at Chat Noir on Friedrichstraße and at the Linden-Cabaret on Unter den Linden. During World War I, when many cabarets were closed, she performed at the Theater am Nollendorfplatz and in Königsberg.
Waldoff's success reached its peak in the Weimar Republic era of the 1920s. She was known for singing her songs in distinctive Berliner slang, attired in a shirt with a tie and the fashionable crop hairstyle, cursing and smoking cigarettes on stage. From 1924 she performed at the two great Berlin varieté theatres, Scala and Wintergarten, sang together with young Marlene Dietrich, and had her songs played on the radio as well as released on record. Her repertoire included around 300 original songs.
Waldoff lived together with her significant other Olga "Olly" von Roeder (June 12, 1886 - July 11, 1963) until her death. The couple lived happily in Berlin during the 1920s. Part of the queer scene, they associated with celebrities like Anita Berber in the milieu around Damenklub Pyramide near Nollendorfplatz. Waldoff was also close friends with Kurt Tucholsky and Heinrich Zille.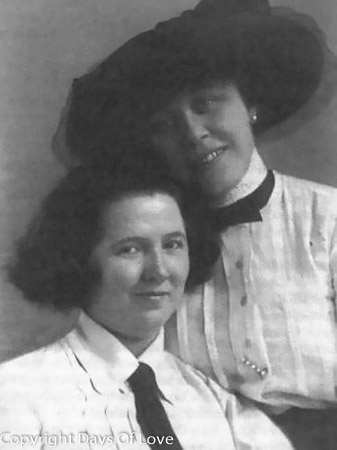 During the Great Depression in 1932, Waldoff performed in an event hosted by the Communist Rote Hilfe organization at the Berlin Sportpalast, which earned her a temporary professional ban (Berufsverbot) when the Nazis and Hitler came to power the next year. After she had joined the Reichskulturkammer association the ban was lifted, she was however suspiciously eyed by Propaganda Minister Joseph Goebbels due to her manners and appearance contradicting the official role model of women in Nazi Germany. Waldoff had to cope with further stage and publication bans. In 1939, she and Olga von Roder left Berlin together to retire in Bayerisch Gmain, Bavaria. In World War II she made last appearances in Wunschkonzert broadcasts of the Großdeutscher Rundfunk and in Wehrmacht troop entertainment shows.
After the war, she lost her savings in the West German monetary reform of 1948 and from 1951 relied on little monetary support by the Senate of Berlin. In 1953, she wrote her autobiography. Waldoff died aged 72 after a stroke and was buried alongside Olga von Roeder in the Pragfriedhof cemetery in Stuttgart.[1]
Claire Waldoff has a star in Walk of Fame of Cabaret, Mainz.
---
My published books:


---
https://en.wikipedia.org/wiki/Claire_Waldoff
Rupp, Leila J.. Sapphistries (Intersections) (p.180). NYU Press. Edizione del Kindle.