Queer Places:
6 Menashe Street, The Alexandria Arts Complex, Moharram Bey, Alexandria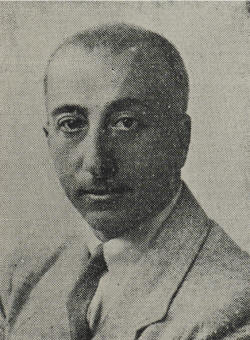 Baron Charles De Menasce (January 5, 1898 - December 19, 1945) was a French art collector and trader. In Alexandria during the war, the Australian writer Patrick White had a brief affair with the Baron Charles de Menasce. At one of Menasce's parties in July 1941, he met Manoly Lascaris, an Alexandrian with a Greek father and an American mother. (Working in the Bank of Athens in the early 1930s, Lascaris used to serve the aged and scruffy Constantine Cavafy, but was warned off meeting him outside work.) Menasce said of the relationship that developed between White and Lascaris, 'Of course you must realise it won't last. It never does with people like us.' The two men took a flat together on the rue Safîa Zaghloul, which they kept on for the next six years. Their relationship lasted until White's death in 1990.
Charles De Menasce was born on January 5, 1898, in Alexandria, the son of Baron Alfred De Menasce and Hélène Suares. From an early age Baron Charles went in a study trip around the world including America, Japan, China and India. A few years later, he went in a new trip, this time by Graff Zeppelin to Brazil, Australia and New Zealand. He was one of the biggest supporters of the Allies during World War II.
He died on December 19, 1945, in Alexandria. Although it wasn't officially inaugurated until 1954, the story of The Museum of Fine Arts at Moharram Bey as far back as 1926 when Baron Charles de Menasce volunteered to donate his villa in the Muharram Bey neighbourhood to become a library and museum for the Alexandria municipality. Unfortunately, in 1940, the villa was bombed and largely destroyed before it was ready. After World War II, the land was re-assigned to the Ministry of Health. It took years of persistent pressure in government offices and in the press from art lover Charles Zahar and journalist Kamal el-Mallakh aided by Hussein Sobhy—an art patron who eventually became the head of the Alexandria Municipality—to finally reclaim the land for its original purpose. The building was completed as an art complex and library and today houses a permanent collection of over 1,300 works of art. The museum is also home to the Alexandria Biennale for Mediterranean Countries, which was inaugurated in 1955 and continues to this day.
---
My published books:


---
Woods, Gregory. Homintern . Yale University Press. Edizione del Kindle.