Partner Charles Ricketts
Queer Places:
City and Guilds of London Art School, 124 Kennington Park Rd, London SE11 4DJ, Regno Unito
Royal Academy of Arts, Burlington House, Piccadilly, Mayfair, London W1J 0BD, Regno Unito
Lansdowne House, 80 Lansdowne Rd, London W11 2LS, Regno Unito
The Vale, Chelsea, London SW3 6AG, Regno Unito
12A Edith Terrace, Chelsea, London SW10 0TH, Regno Unito
31 Beaufort St, Chelsea, London SW3, Regno Unito
Chilham Castle, Chilham, Canterbury CT4 8DB, Regno Unito
Chalon House, 8 Paradise Rd, Richmond TW9 1RX, Regno Unito
21 Kew Gardens Rd, Richmond TW9, Regno Unito
Townshend House, Albert St, London NW1 7LX, Regno Unito
St Botolph, Quarrington, Sleaford NG34 8UL, Regno Unito
Charles Haslewood Shannon RA[2] (26 April 1863 – 18 March 1937) was an English artist.
Shannon was born in Sleaford, Lincolnshire, the son of the Rev. Frederick William Shannon, Rector of Quarrington (himself the son of a Royal Navy captain, Rodney Shannon and his wife Frances Nash), and Catherine Emma Manthorp, the daughter of a surgeon, Daniel Levett Manthorp (and his wife, Elizabeth Mason).[3]
Shannon attended the City and Guilds of London Art School (then known as South London School of Technical Art, formerly Lambeth School of Art), and was subsequently considerably influenced by his lifetime partner Charles de Sousy Ricketts[4] and by the example of the great Venetians. In his early work he was addicted to a heavy low tone, which he abandoned subsequently for clearer and more transparent colour. He achieved great success with his portraits and his Giorgionesque figure compositions, which are marked by a classic sense of style, and with his etchings and lithographic designs.[5]

Charles Haslewood Shannon; Charles de Sousy Ricketts, 1903, by George Charles Beresford, National Portrait Gallery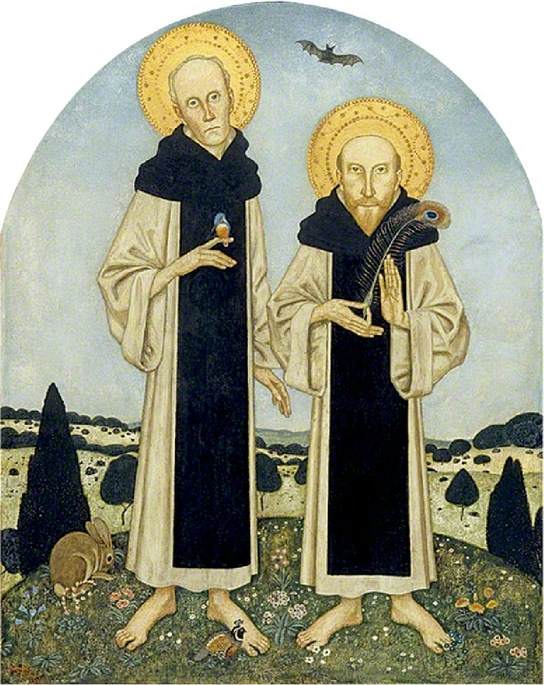 Charles Ricketts (1866–1931), and Charles Shannon (1863–1937), as Medieval Saints, by Edmund Dulac (1882–1953)

Mr Charles Ricketts and Mr Charles Hazelwood Shannon [Part IX], 1897, by Sir William Rothenstein, Tate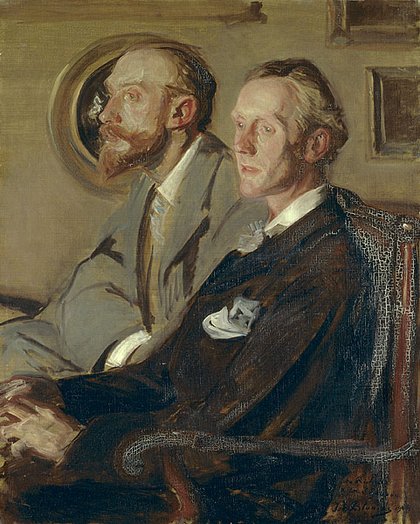 Portraits of Charles Shannon and Charles Ricketts, 1904, by Jacques-Emile Blanche, Tate
The Dublin Municipal Gallery owns his circular composition The Bunch of Grapes and The Lady with the Green Fan (portrait of Mrs Hacon). His Study in Grey is at the Munich Gallery, a Portrait of Mr Staats Forbes at Bremen, and Souvenir of Van Dyck at Melbourne. One of his most remarkable pictures is The Toilet of Venus in the collection of Lord Northcliffe. Several of his portrait works are on display in the National Portrait Gallery in London.[5]
Complete sets of his lithographs and etchings have been acquired by the British Museum and the Berlin and Dresden print rooms. He was awarded a first-class gold medal at Munich in 1895 and a first-class silver medal in Paris in 1900.[5] He was a member of the International Society of Sculptors, Painters and Gravers.[6]
Shannon became disabled in 1928 after a fall while hanging a picture, and the neurological damage that resulted caused amnesia and ended his career.[7]

Nottingham Castle
---
My published books:

---
Darracott, Joseph (October 2009). "Shannon, Charles Haslewood (1863–1937)". Oxford Dictionary of National Biography. Oxford University Press. Retrieved 4 January 2016.

Darracott (2004)

Ray, Gordon Norton (1992), The Illustrator and the Book in England from 1790 to 1914, Courier Dover Publications, p. 160, ISBN 0-486-26955-8.
Shannon, Charles Haslewood, in Chisholm, Hugh, ed. (1911). Encyclopædia Britannica (11th ed.). Cambridge University Press.
"The International Society of Sculptors, Painters and Gravers". Mapping the Practice and Profession of Sculpture in Britain and Ireland 1851-1951. Glasgow University. Retrieved

31 May

2013.
The Sir Edmund and Lady Davis Presentation: A Gift of British Art to South Africa, South African National Gallery, 1999