Queer Places:
58 Linwood St, Boston, MA 02119
Forest Hill cemetery, Boston, MA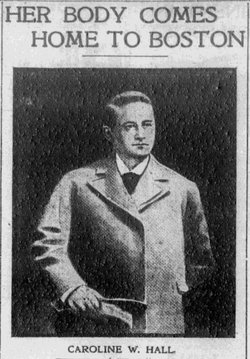 Caroline Hall aka Charles Winslow Hall (May 22, 1860 - September 29, 1901), was born in Malden, Massachusetts in 1860 the son of architect John R. Hall and Caroline Winslow. John R. Hall was born in Massachusetts in about 1830. Caroline Winslow Hall, born in Massachusetts in 1835 and was the daughter of Captain George Winslow (born 1792) and his wife Elizabeth (born 1800).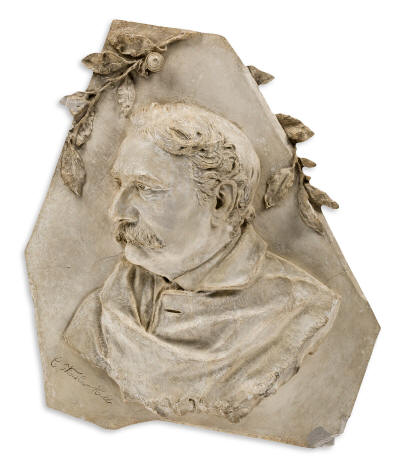 CHARLES WINSLOW HALL, (1860-1901) Portrait of Joseph Frank Currier Plaster portrait, 711x648 mm, 28x25 1/2 inches. Signed, C. Winslow Hall, lower left. Circa 1890.
As Caroline, Charles left Boston in 1890 and traveled to Europe to study art, eventually in Munich with the Boston artist Joseph Frank Currier. Assuming the name Charles, and living as a man, he settled in Italy and worked as an artist for the last decade of his life. She participated in shooting contests, of which she won several, and was a frequent gambler and drinker. In about 1897 she met, and eventually married, Giuseppina Boriani of Milan, Italy. In September 1901 the couple set sail on the ship Città di Torino for New York from Genoa. Caroline/Charles had not been in the United States for a decade. While aboard she became ill from complications due to alcoholism. The ships doctors discovered that she was a woman and informed the Captain, but she/he died before the ship arrived in New York on September 30. Morning newspapers across the country told the story of the woman and her wife and on October 2 the body was claimed by Caroline's father. Only friends and family attended the funeral services in Boston, with the exception of Giusseppa Boriani, who was not considered family but still invited.
---
My published books:


---
Improper Bostonians Lesbian and Gay History from the Puritans to Playland By History Project Staff · 1998