Partner Larry Bloom
Queer Places:
University of Chicago, 5801 S Ellis Ave, Chicago, IL 60637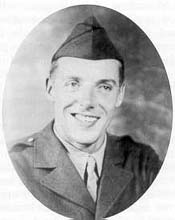 Bruce Chardon Scott (March 7, 1912 - December 26, 2001) brought one of the first anti-gay employment discrimination suits in the United States. Fired from the federal civil service in 1956 for alleged homosexuality, Scott joined the Mattachine Society of Washington in the early sixties and brought suit against the federal government for re-instatement. That case, Scott v. Macy, was one of the first major gay rights legal victories and was instrumental in leading to an end of twenty-five years of anti-gay discrimination in the federal civil service.
Scott was a former officer in both the Mattachine Society of Washington and Mattachine Midwest, and was inducted into the City of Chicago Gay and Lesbian Hall of Fame in 1993.
Born in Portland, Oregon, Scott moved to Chicago in 1922, at the age of ten, with his recently divorced mother. He graduated from Chicago's Tilden Technical High School, attended Armour Institute of Technology [now known as the Illinois Institute of Technology], and received a Bachelor of Arts in Political Science from the University of Chicago in 1933. Scott's first job out of college was with the Corporation Counsel's office of the City of Chicago. He went on to serve in the Army and worked for the U.S. Department of Labor for nearly twenty years before being forced to resign in 1956. Scott participated in the State of Illinois Constitutional Convention of 1969-1970, during which he drafted a proposal for a new constitution for the State of Illinois. He also served as a volunteer at Horizons.
Bruce Scott died on December 26, 2001 of Parkinson's disease at the age of 89. At Scott's request, there was no funeral or memorial service. He is survived by his longtime companion Larry Bloom.
---
My published books:

---
http://gaytoday.com/garchive/events/011802ev.htm