Partner Mary Meigs, Jane Verlaine
Queer Places:
Case Western Reserve University, 10900 Euclid Ave, Cleveland, OH 44106, Stati Uniti
Bennington College, 1 College Dr, Bennington, VT 05201, Stati Uniti
350 Pamet Point Rd, Wellfleet, MA 02667
Sugarloaf Women's Village, Sugarloaf Key, Florida, Stati Uniti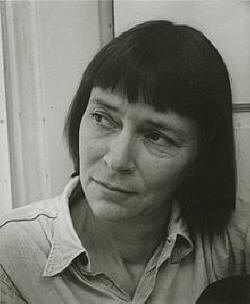 Barbara Deming (July 23, 1917 – August 2, 1984) was an American feminist and advocate of nonviolent social change. Author and activist Barbara Deming began her career writing theater and film reviews, poetry, short stories, and a novel. In 1959, inspired by Gandhi's writings, Deming became politically active, advocating nonviolence in all spheres of life. Periodicals such as The Nation and Liberation (for which she was an editor) published many of her political essays. She demonstrated for peace and civil rights and was jailed several times for acts of civil disobedience. In the early 1970s, she became a feminist and worked on women's and lesbian issues until her death in 1984.
Barbara Deming was born in New York City. She attended a Friends (Quaker) school up through her high school years.
Deming directed plays, taught dramatic literature and wrote and published fiction and non-fiction works. On a trip to India, she began reading Gandhi, and became committed to a non-violent struggle, with her main cause being Women's Rights. She later became a journalist, and was active in many demonstrations and marches over issues of peace and civil rights. She was a member of a group that went to Hanoi during the Vietnam War, and was jailed many times for non-violent protest.[2]
At sixteen, she had fallen in love with a woman her mother's age, and thereafter she was openly lesbian. She was the romantic partner of writer and artist Mary Meigs from 1954 to 1972. Their relationship eventually floundered, partially due to Meigs's timid attitude, and Deming's unrelenting political activism.
During the time that they were together, Meigs and Deming moved to Wellfleet, Massachusetts, where she befriended the writer and critic Edmund Wilson and his circle of friends. Among them was the Québécois author Marie-Claire Blais, with whom Meigs became romantically involved. Meigs, Blais, and Deming lived together for six years.[3]
In 1976, Deming moved to Florida with her partner, artist Jane Verlaine. Verlaine painted, did figure drawings and illustrated several books written by Deming. Verlaine was a tireless advocate for abused women.
Deming died on August 2, 1984.
---
My published books:


---
https://en.wikipedia.org/wiki/Barbara_Deming