Partner Wally van Lanschot
Queer Places:
Wageningen General Cemetery Wageningen, Wageningen Municipality, Gelderland, Netherlands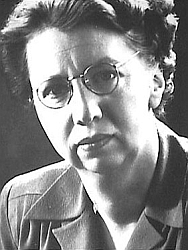 Anna de Waal (November 25, 1906, Culemborg - March 22, 1981, Arnhem) was a politician and secretary of state. In 1951 De Waal went to live in Utrecht with Wally van Lanschot, the founder of the Roman Catholic Women's Dispute. She had deliberately taken in a relatively unknown woman, because 'good friends in one house are in danger of falling in love with each other'. The nature of De Waal and Van Lanschot's relationship is unclear, but rumors of a lesbian relationship have been persistent. The two kept it hidden from the environment.
De Waal was the daughter of Jacobus Wilhelmus de Waal, pharmacist, later a pharmaceutical inspector, and Geertje Sterkenburg. Anna de Waal grew up together with her two brothers in a non-religious family. Still, after six years of public primary school, her parents sent their daughter to a Roman Catholic MULO in 1918 in their hometown of Culemborg. When father De Waal became a pharmaceutical inspector in the north of the country in 1921, the family settled in Leeuwarden. Anna again followed denominational education at the Christian HBS. Not the mind of the school, but the quality of the education offered was paramount for her parents.
Anna's parents thought she was too young to leave home after the final exam in 1924 and therefore had their daughter visit the household school in Leeuwarden to bridge the gap. In 1926 she - twenty years old - started to study social geography at the University of Utrecht. On March 26, 1932, she passed her master's degree with honors.
After a year of geography teaching at the Christian MMS in Nijmegen, De Waal left for the Dutch East Indies in 1932. There she became a geography teacher at the Government Secondary Education, first in Bandoeng and then in Surabaya. She would later call this period a 'wonderful time' ( De Nieuwe Linie , , 14-1-1967).
After the death of her oldest brother, a year after her graduation from HBS, De Waal started looking for meaning. In India she started to focus on this even more emphatically. After an orientation on theosophy, Buddhism, Islam, Christian science, Protestantism and Spiritualism, she eventually converted to Roman Catholicism. On Easter Saturday 1935, De Waal was baptized in Bandoeng. From now on she would sign with 'AM de Waal': Anna Maria. She would never become dogmatic. Her parents saw no objection to their daughter's transition to Catholicism. "If only you are happy and a good person," was their response.
Anna de Waal returned to the Netherlands for leave in 1939, where she moved in with her parents in Wageningen. She was still here when the Germans invaded. In July 1940, she was interned, along with several hundred other people on leave, in retaliation for the arrest of German residents in the Dutch East Indies. She was detained for six months in the Ravensbrück concentration camp in Mecklenburg, where the so-called 'Indian hostages' received better treatment than the 'normal' prisoners. After she was released, De Waal took care of her mother on her sick bed in Wageningen. At the same time, she was working on a dissertation. On 28 May 1943 she obtained her doctorate - a few months before the declaration of loyalty was also made compulsory for doctoral students - with Professor L. van Vuuren. Her dissertation Social geography breathes the belief in progress that would determine its later actions. De Waal believed in the makeability of society and also saw a role for geography in clearing up archaic ideas and prejudices. After the liberation, De Waal - her mother had died in November 1943 - moved from Wageningen to Utrecht. There she got a job in November 1945 as a scientific civil servant at the Geographic Institute of the University. She worked as the right hand of successively the professors J. Broek and A. de Vooys and gave lectures on geography and an introduction to didactics.
Despite her calm nature - her hobbies were walking, music and poetry - De Waal gradually started to manifest herself outside her work. She joined the Roman Catholic Women's Dispute, which was founded at the end of September 1946, which advocated a more prominent place for women in society. She pleaded that case during many lectures in the country. In February 1951, De Waal became a board member of the Women's Association, a position she would perform for ten years; in 1951-1952 she held the chair. In a speech when she took office as a board member, she immediately made it clear that she saw this organization as a vanguard. font>
De Waal was also active in the Catholic People's Party (KVP). From September 6, 1949 to February 1, 1953, she was a member of the Utrecht city council on behalf of that party. Two years later she was a member of the Dutch delegation to the General Assembly of the United Nations as a representative of women's interests. She liked it moderately. In terms of content she was in her place there,but the constant networking and the sharp political positions taken by several countries bothered her.
OnOn July 15, 1952, De Waal became a member of the House of Representatives for the KVP. Her specialties here became Social Affairs and Foreign Affairs. After her own insistence, Education, Arts and Sciences was added to this. She would only perform this function for six months. On February 2, 1953, De Waal took office as Secretary of State for Education, Arts and Sciences under Minister JMLTh. Cals in the second Drees cabinet (1952-1956). This made her the first minister in the Netherlands.
As secretary of state, De Waal was responsible for preparatory higher and secondary education and industrial education. In 1955, primary education, social-pedagogical training and training for compulsory youth were added. These were poor times: although the department's budget grew, it fell short to meet the demand for new school buildings and the salary requirements of the teaching staff. In the meantime, De Waal was working on a number of education laws and outlined the contours of the later 'Mammoetwet' (Law on Secondary Education of 1963) in the Second Education Note, which was made together with Cals and which was published in 1955. font>
The Walloon past as a champion of women's interests did not play a major role during her state secretariat. In speeches at industrial schools, she always pointed out in speeches that these institutions should not only teach girls household chores, but also prepare them to stand on their own two feet if necessary. Moreover, De Waal's view that it was up to a couple to determine whether the woman would continue to work within her party after her marriage was not shared by everyone.
EvEven before the elections to the House of Representatives in 1956, education specialists within the KVP urged that De Waal be replaced. In the Labor Party (PvdA), some shared this view. According to the education specialist of that party in the House, a secretary of state required more than someone who "to say the least ... can always be called a friendly lady". Cals was aware of these objections and also saw De Waal's weaknesses, such as lack of decisiveness and a lack of political feeling. Nevertheless, the minister wanted to maintain his secretary of state, because in unified cooperation they could guide the major education laws through parliament.
Cals' intention to appoint two state secretaries to his department met with resistance from Prime Minister W. Drees. This, as well as a joint statement by senior officials in the department that their minister should have at least education in his portfolio, proved fatal to De Waal. At the end of October 1956, Cals appointed RGA Höppener as Secretary of State. He was responsible for the arts, the media and youth work, subjects that the minister had previously dealt with himself. De Waal stayed on until March 16, 1957 to familiarize Cals with the subtleties of her policy area. After that, she worked as adviser-honorary in the department until 1 November 1963, but it did not amount to much. She combined this civil service with leading positions in the women's movement.For example, from 1958 to 1962 she chaired the Catholic Women's Association for the second time and from 1959 to 1966 chaired the Dutch Association for Women's Interests, Women's Labor and Equal Citizenship. font>
As early as 1960, during an audience with Cardinal BJ Alfrink, De Waal argued for a larger share of women in the Roman Catholic Church. She had great hopes for the Second Vatican Council (1962-1965), and as president of the Catholic Women's Dispute she tried to initiate a lobby for a greater role for women. However, other Catholic women's groups were not very enthusiastic about this. Later, her views drifted further and further away from official ecclesiastical doctrine and even believed that women should be allowed to talk about female priests.
After her state secretariat, De Waal remained active for the KVP as a member of the Provincial Council of Utrecht from 1 July 1958 to 3 July 1962. In the latter year she left the party because of the policy with regard to New Guinea. The fact that the KVP held on to the last colony in the East for a long time and even wanted to defend it by force was indigestible for her. She did not join another party. In elections in the 1960s, she voted for the Pacific-Socialist Party (PSP) out of a sense of commitment to the Third World and an aversion to the Vietnam War.
After her state secretariat, De Waal saw a return to education as a step back, but eventually she ended up back in it. She held national board positions in library work and was a co-founder of the Library Academy in Amsterdam, where she worked as a staff teacher from September 1, 1965 to August 1, 1970.
Soon after her retirement, dementia started to affect De Waals mental faculties. She could not expect much from housemate Van Lanschot, who spent a lot of time working as a student counselor at Utrecht University. A friend of De Waal took care of her first in Nijmegen and then in Arnhem. In 1981 she died in a nursing home in the capital of Gelderland at the age of 74.
Although Anna de Waal was the first woman to join a cabinet, her name was not written in large letters in the history books. The news of De Waal's appointment as secretary of state was pushed aside in early February 1953 by the flood disaster in the south-west of the Netherlands. Moreover, the first female minister, Marga Klompé, would attract much more attention more than three and a half years later. This controlled the political game much better. De Waal had difficulty with that. She mainly had her significance as a pioneer of a number of educational laws, in particular the 'Mammoth Act' for secondary education. In addition, she played an important role in the emancipation of women within the Catholic pillar.
---
My published books:

---
http://resources.huygens.knaw.nl/bwn1880-2000/lemmata/bwn6/waal