Queer Places:
Runnymede Memorial Englefield Green, Runnymede Borough, Surrey, England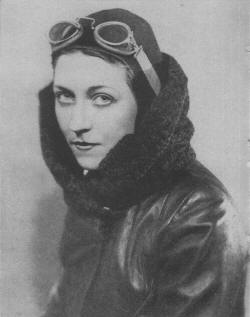 Amy Johnson CBE (1 July 1903 – 5 January 1941) was a pioneering English pilot who was the first woman to fly solo from London to Australia in 1930. Kathleen Pelham Burn was a British socialite, aviator, and sportswoman. She is accounted by her son as being bisexual, as he wrote: "All her life she was attracted by men and women [...] she knew intimately Donald Campbell, Alan Cobham, Kaye Don, Jim Mollison, Amy Johnson, and plenty of others besides." Flying solo or with her husband, Jim Mollison, she set many long-distance records during the 1930s. She flew in the Second World War as a part of the Air Transport Auxiliary and disappeared during a ferry flight. The cause of her death has been a subject of discussion over many years.
Born in 1903 in Kingston upon Hull, East Riding of Yorkshire, Amy Johnson was the daughter of Amy Hodge, granddaughter of William Hodge, a Mayor of Hull, and John William Johnson whose family were fish merchants in the firm of Andrew Johnson, Knudtzon and Company. She was the eldest of three sisters, the next in age being Irene who was a year younger.[1] Johnson was educated at Boulevard Municipal Secondary School (later Kingston High School) and the University of Sheffield, where she graduated with a Bachelor of Arts degree in economics.[2] She then worked in London as secretary to a solicitor, William Charles Crocker. She was introduced to flying as a hobby, gaining an aviator's certificate, No. 8662,[3] on 28 January 1929, and a pilot's "A" Licence, No. 1979, on 6 July 1929, both at the London Aeroplane Club under the tutelage of Captain Valentine Baker. In that same year, she became the first British woman to obtain a ground engineer's "C" licence.[4] Johnson was a friend and collaborator of Fred Slingsby whose Yorkshire based company, Slingsby Aviation of Kirbymoorside, North Yorkshire became the UK's most famous glider manufacturer. Slingsby helped found Yorkshire Gliding Club at Sutton Bank and during the 1930s she was an early member and trainee.[5][6]
Johnson obtained the funds for her first aircraft from her father, who was always one of her strongest supporters, and Lord Wakefield.[2] She purchased a secondhand de Havilland DH.60 Gipsy Moth G-AAAH and named it Jason after her father's business trade mark.[7][Note 1] Johnson achieved worldwide recognition when, in 1930, she became the first woman to fly solo from England to Australia. Flying G-AAAH Jason, she left Croydon Airport, Surrey, on 5 May and landed at Darwin, Northern Territory on 24 May 11,000 miles (18,000 km).[8] Six days later she damaged her aircraft while landing downwind at Brisbane airport and flew to Sydney with Captain Frank Follett while her plane was repaired. Jason was later flown to Mascot, Sydney, by Captain Lester Brain.[9][10] She received the Harmon Trophy as well as a CBE in George V's 1930 Birthday Honours in recognition of this achievement, and was also honoured with the No. 1 civil pilot's licence under Australia's 1921 Air Navigation Regulations.[11][12][Note 2] Johnson next obtained a de Havilland DH.80 Puss Moth G-AAZV which she named Jason II. In July 1931, she and co-pilot Jack Humphreys became the first people to fly from London to Moscow in one day, completing the 1,760 miles (2,830 km) journey in approximately 21 hours. From there, they continued across Siberia and on to Tokyo, setting a record time for Britain to Japan.[13] In 1932, Johnson married Scottish pilot Jim Mollison, who had proposed to her during a flight together some eight hours after they had first met. In July 1932, Johnson set a solo record for the flight from London to Cape Town, South Africa in Puss Moth G-ACAB, named Desert Cloud, breaking her new husband's record.[13] De Havilland Co and Castrol Oil featured this flight in advertising campaigns.[14] In July 1933, Johnson together with Mollison flew the G-ACCV, named "Seafarer," a de Havilland DH.84 Dragon I[13] nonstop from Pendine Sands, South Wales, heading to Floyd Bennett Field in Brooklyn, New York.[15] The aim was to take "Seafarer" to the starting point for the Mollison's attempt at achieving a world record distance flying non-stop from New York to Baghdad. Running low on fuel and now flying in the dark of night, the pair made the decision to land short of New York. Spotting the lights of Bridgeport Municipal Airport (now Sikorsky Memorial Airport) in Stratford, Connecticut they circled it five times before crash landing some distance outside the field in a drainage ditch. Both were thrown from the aircraft but suffered only cuts and gashes.[16] After recuperating, the pair were feted by New York society and received a ticker tape parade down Wall Street.[4] The Mollisons also flew, in record time, from Britain to India in 1934 in G-ACSP, named "Black Magic", a de Havilland DH.88 Comet as part of the Britain to Australia MacRobertson Air Race, but were forced to retire from the race at Allahabad because of engine trouble.[13] In September 1934, Johnson (under her married name of Mollison) became the youngest President of the Women's Engineering Society, having been vice-president since 1934. [17] She was active in the society until her death.[18] On 4 May 1936, Johnson made her last record-breaking flight, starting from Gravesend Airport & regaining her Britain to South Africa record in G-ADZO, a Percival Gull Six.[19] The same year she was awarded the Gold Medal of the Royal Aero Club.[4] In 1938, Johnson overturned her glider when landing after a display at Walsall Aerodrome in England, but was not seriously hurt.[20] The same year, she divorced Mollison. Soon afterwards, she reverted to her maiden name.[21]
In 1940, during the Second World War, Johnson joined the newly formed Air Transport Auxiliary (ATA), which transported Royal Air Force aircraft around the country. She rose to First Officer. Her former husband also flew for the ATA throughout the war.[22] Johnson described a typical day in her life in the ATA in a humorous article (published posthumously in 1941) for The Woman Engineer journal.[18]
Writing a last letter to her friend Caroline Haslett, on New Years Day 1941, "I hope the gods will watch over you this year, and I wish you the best of luck (the only useful thing not yet taxed!)."[18] On 5 January 1941, while flying an Airspeed Oxford for the ATA from Prestwick via RAF Squires Gate to RAF Kidlington near Oxford, Johnson went off course in adverse weather conditions. Reportedly out of fuel, she bailed out as her aircraft crashed into the Thames Estuary near Herne Bay. A convoy of wartime vessels in the Thames Estuary spotted Johnson's parachute coming down and saw her alive in the water, calling for help.[23] Conditions were poor – there was a heavy sea and a strong tide, snow was falling and it was intensely cold.[24] Lt Cmdr Walter Fletcher, the Captain of HMS Haslemere,[Note 3] navigated his ship to attempt a rescue.[24] The crew of the vessel threw ropes out to Johnson but she was unable to reach them and was lost under the ship. Her body was never recovered. A number of witnesses believed there was a second body in the water.[23] Fletcher dived in and swam out to this, rested on it for a few minutes then let go. When the lifeboat reached him he was unconscious and as a result of the intense cold he died in hospital days later.[24][25] A memorial service was held for Johnson in the church of St Martin-in-the-Fields on 14 January 1941. Walter Fletcher was posthumously awarded the Albert Medal in May 1941.[24]
---
My published books:

---