Partner Mary Banks
Queer Places:
Museum Hordamuseet, Hordnesvegen 24, 5244 Fana, Norway
Møllendal Church Cemetery Bergen, Bergen kommune, Hordaland fylke, Norway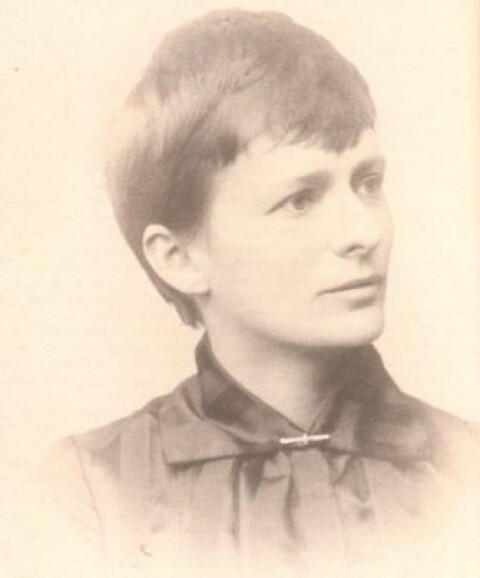 Ambrosia Tønnesen (28 January 1859 – 21 January 1948) was a Norwegian sculptor. She is regarded as the first professional female sculptor in Norway,[1] and is best known for her many portraits, including statues, busts, and reliefs. Ambrosia met her partner, British Mary Banks, in 1888 and they lived together for 30 years in Paris and in Bergen, Norway
Tønnesen was born in Ålesund, a daughter of steamshipmaster Abraham Tønnesen (1818–1868) and Thomine Jonasen.[2] She worked as a schoolteacher in Bergen for some years, while also studying drawing, modeling, and painting. In 1885 she travelled to Copenhagen where she studied with painter Bertha Wegmann and sculptor Stephan Sinding. She then studied with sculptor Albert Wolff in Berlin, and further with René de Saint-Marceaux in Paris.[1] For a while she also studied under Jean-Antoine Injalbert at Académie Colarossi .
Among Tønnesen's early sculptures are Våren (1885), Sneklokken (1887; a young girl), Den onde Hjørdis (1890), and Den korsfestede Kristus ("The Crucified Christ"; marble sculpture in Årstad Church, 1890). She made a large number of portraits (statues, busts, and reliefs), and is regarded as the first female Norwegian sculptor who made her living from her art. Her portraits include statues of Ole Bull, Johan Christian Dahl, and Camilla Collett; reliefs of Dorothe Engelbretsdatter and Petter Dass; and busts of Edvard Grieg (marble, 1902), Ole Irgens (bronze, 1906), Amalie Skram (marble, 1916, at Bergen Kunstmuseum), Gina Krog (bronze, 1919), Claus Fasting, bronze, 1924), Christian Michelsen (bronze, 1924), Henrik Angell (bronze, 1924), Wollert Konow (bronze, 1925), and Haakon Wallem (bronze, 1942).[1][3]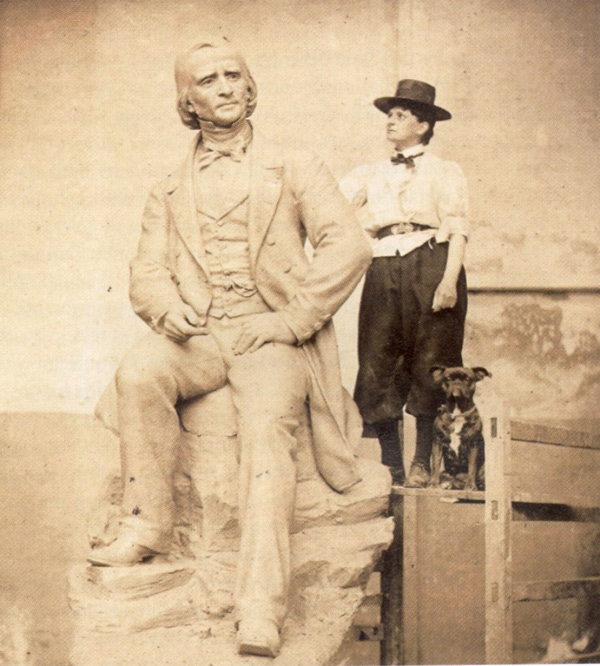 Ambrosia Tønnesen was wearing bloomers (popular cycle wear for women in the 1890s) when she worked in her studio.
After settling in France , where she remained for 23 years, Tønnesen quickly entered the artist scene. She became acquainted with artists such as Auguste Rodin , Alexandre Falguière and Antonin Mercié . Already in 1888 the figure "Young Italian" was assumed at the Paris Salon . In the years she was then regularly represented at various salons in Paris. In 1890, a female figure was accepted both to the parlor in Paris and to the State Autumn Exhibition.
For the statue of IC Dahl, she was honored by King Oscar II in 1902 with the medal Litteris et Artibus .
At the salon in 1903, Tønnesen achieved Mention Honorable . In 1904 Tønnesen was decorated with the French order Officier d'Académie.[2] The award came after she created a monument to the Montmartre cemetery.
Tønnesen moved back to Norway in 1910 and settled on Minde in Fana. After returning from France in 1910, Tønnesen produced about 70 works, nearly two works a year on average. For the most part, these portraits were in bust form or relief, usually done after ordering. Among these works are the reliefs in bronze by Petter Dass and Dorothea Engelbretsdatter , mounted on either side of the same boat set up in 1911 at the cathedral in Bergen, and the marble busts of Amalie Skram (1916) and Christian Michelsen (1924). In 1946, Tønnesen performed a bust of Nordahl Grieg . In the center of Ytre Arna, the Jebsen Monument stands over the founders of Arne and Dale factories Peter (1824-1892) Johan (1827-1920) and Jürg Jebsen (1831-1901) Bronze relief on stone 1946 The last work, by the organist and composer Peder Knudsen , was completed in 1947 and erected outside Ålesund church the following year.
In 1939, Tønnesen was awarded the King's Merit Medal in gold .
She died in Fana (now Bergen) on 21 January 1948, aged 88.[1]
Tønnesen was buried at Møllendal grave site. Her home from Minde, the "Ambrosia House", has been moved to the Horda Museum . Many of Tønnesen's works are found today in Bergen , but there are also twelve works in Haugesund and five in Ålesund . In Oslo there are a couple of works by Tønnesen. Works by Tønnesen are also found in Paris , New York , Kristiansund and Kristiansand .
---
My published books:

---
https://no.wikipedia.org/wiki/Ambrosia_T%C3%B8nnesen