Queer Places:
1 Fitzjohn's Ave, London NW3 5LA, UK
Briantspuddle, Dorchester DT2 7HT, UK
Walnut Tree Manor, Haughley Green, Stowmarket IP14 3RQ, UK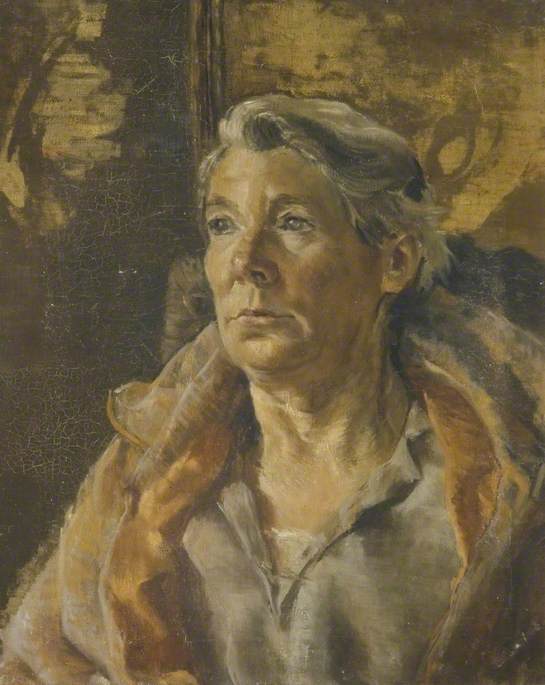 Alice Debenham (July 9, 1867 - 1940) and Lady Eve Balfour researched organic growing & nutrition in 1939-1971 at the Soil Association. Eve Balfour referred to Debenham as the "Raleigh" to her own "Columbus" – the person who followed on from the inspired explorer and made reality of his dreams. Alice Debenham was the much older of the two women, by 31 years. The portrait of Alice, painted by her niece Alison, now hangs in Briantspuddle village hall, Dorset.
Alice Debenham was born 9 July 1867 in Finchley Road, Hampstead, and was baptised 11 September 1867 at All Souls Church, South West Hampstead. She is recorded in the 1911 census as living at 1 Fitzjohn Avenue, Hampstead, employed as an employer in agriculture. This was the address of her parents, Frank Debenham and Emma Folkard Ridley. Frank's parents were William Debenham and Caroline Freebody, founders of the Debenhams stores group, sometime known as Debenham and Freebody. One of Alice's brothers was Ernest Ridley Debenham, (1865-1952), successor to Frank as the big cheese of the stores, and created first baronet in 1931.
Until the First World War, Briantspuddle was a village of 12 cottages, mostly ancient and thatched, several of which survive. Then Sir Ernest Debenham – an idealistic reformer with a vision of increasing agricultural production, attracting people back to work the land, developing scientific methods and making rural Dorset self-sufficient in food production – bought land in the valley and set out to create an ideal agricultural community. From 1914 to 1919, Alice was the farm manager of this Debenham Estate land.
In the mid-1930s Eve Balfour purchased Walnut Tree, and at the same time Alice Debenham arrived. The 80-acre Walnut Tree Farm was a victim of the depression and Eve was able to purchase the farm at the foreclosed price of five shillings an acre. Eve did not have the capital to buy the farm but borrowed it. At about the same time, Alice Debenham, an arthritic 68-year-old who had studied medicine in her youth and who had experience of farm management, visited and agreed to rent the house at Walnut Tree Farm and to spend several thousand pounds modernising it. It would seem that Alice Debenham came to hear of Eve and Walnut Tree Farm through Eve's long-term companion Kathleen Carnley. Debenham quickly became Eve's "benefactress" and would prove a great ally at the end of the decade when Eve encountered organic theories about compost-based farming. Benefactress is the term used by Eve's mother Betty to describe Alice. Betty also described Alice as "the Fairy Godmother". She was clearly a wealthy woman as she paid for electricity to be installed at not only Walnut Tree farmhouse but also at New Bells farmhouse. By the end of the 1930s the leasehold of Walnut Tree Farm, if not the freehold, appears to have been held by Alice Debenham.
Agnes Debenham, sister of Alice, sent a copy of a private memorandum to an acquaintance who was a director at New York-based publishing firm Harcourt, Brace & Co. Agnes Debenham simply wished to assist in securing publication of a new, revised edition of the memorandum, since copies of the original were dwindling, and she was willing to provide some financial backing. Agnes Debenham's New York contact forwarded her request, in early 1942, to Faber & Faber in London. Before long, one of the founding editors of Faber & Faber, Richard de la Mare (son of poet Walter), was in communication with Eve Balfour to publish The Living Soil.
Erin Gill notes that Alice Debenham, who died in autumn 1940, purportedly left £1,000 to Haughley Research Trust. Alice Debenham transferred ownership of Walnut Tree farm and the house that went with it to the "custodian trustees", who secured support at some point during the war from the legal custodian.
---
My published books:


---