Partner Guna Massyn
Queer Places:
Dombeya, Pelindaba, Hartbeespoort, 0216, South Africa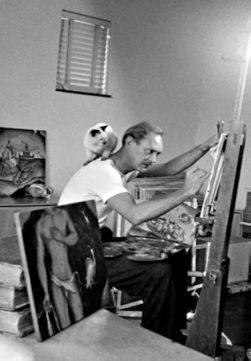 Alexis Preller (6 September 1911 – 13 December 1975) was a South African painter. In his last years he became increasingly open about his sexuality, and was asked by the South African goverment to sit on its committee reporting on the welfare of homosexuals.
Alexis Preller was born in Pretoria and attended Pretoria Boys High School. After completing school he worked as a clerk before persuading his family to allow him to seek a future as an artist. In 1934 he set off for London where he met JH Pierneef, who advised him to enroll at Westminster School of Art. In 1935 he returned to Pretoria where he held his first exhibition. In 1937 he went to Paris and studied art at Grande Chaumiere, under Othon Frieze.
He was especially influenced by Vincent van Gogh and Paul Gauguin and visited European galleries and museums to study these artists' works. Elements of Gauguin can be seen in his paintings on South African subjects such as the Garden of Eden (1937).[1] Over time, he developed his own style and his works showed an array of elements from nature, African masks and other African art. One finds this overlay of his personal style on African themes most illuminatingly expressed in works such as Basuto Allegory (1947). Travels in Europe and North Africa gave further expression to his output which became influenced by the frescoes of Piero della Francesca and Egyptian murals.
In 1954 he settled on a farm near Hartebeespoortdam, designed by his friend Norman Eaton.
One sees this influence in works such as Hieratic Women (1956). Preller's later unique style isolated him from the artistic movements of the 20th century, nor did he fit into any conventional style of the old school. Although highly regarded in his native Pretoria, this was not initially the case elsewhere in South Africa - an exhibition of his works in Cape Town in the late 1960s was coolly received by art critics there.[2] Recognition for his work has grown since then, and the opening of the most recent major exhibition, Africa, the Sun and the Shadows of his works at Johannesburg's Standard Bank Gallery on 13 October 2009 was strongly attended.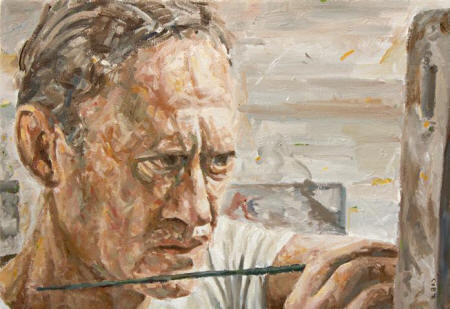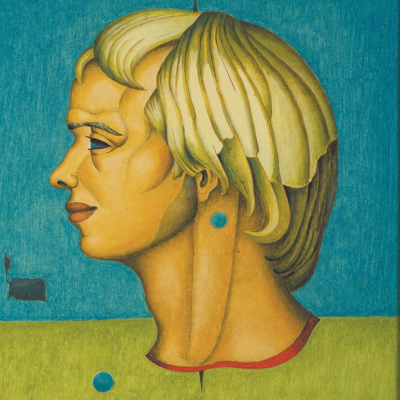 Stephan Welz & Co – Lot 547- Alexis Preller – GUNA MASSYN – R 800 000 – R 1 200 000
Preller and Guna Massyn met in 1968, via a note left in Preller's post box, when Guna was 18 years old and working as a postal clerk in Brits near Pretoria. Impressed by Guna's earnestness, Preller befriended the young man, inviting him to visit his home, Dombeya, at Hartebeespoort. Soon Guna was living with Preller, receiving tutoring from the older artist, working as his studio assistant and then increasingly playing an important role in his life and work.
At the time of their meeting Guna's surname was de Jager, but he was to subsequently change it to Massyn upon the marriage of his mother to Frans Massyn. This change is noted in the inscription on the reverse of one of his earliest works, Vincent van Gogh (Lot 539), to Guna on 26 November 1969 and inscribed it on the reverse (see Lot 539), and would continue to present works to Guna during their relationship.
By late 1975 Preller's health had taken a turn for the worst but before entering hospital for surgery he made Guna his sole heir. Alexis Preller passed away on 13 December 1975. Tragically, Guna Massyn passed away in a fatal car accident a few days later, aged 25. They are buried side by side at Dombeya.
Dombeya has recently been documented by students of the University of Pretoria Department of Architecture under the guidance of Prof Roger Fisher and Nicholas Clarke and a more detailed history of the buildings as well as as built drawings will soon be published on this site.
---
My published books:


---
Hidden Histories, 20th Century Male Same Sex Lovers in the Visual Arts, by Michael Petry