Partner Hein Vos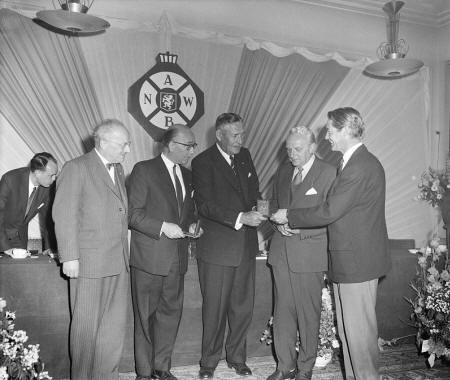 Aar van de Werfhorst (3 March 1907 – 20 January 1994), pseudonym of Pieter Gerhardus (Piet) Jansen, was a Dutch writer and journalist. Hein Vos was a Dutch politician of the defunct Social Democratic Workers' Party (SDAP) and later the Labour Party (PvdA) and economist.[1] Vos lived with Aar van de Werfhorst since 1945.
Aar van de Werfhorst was born to Dutch parents who owned a drugstore in Gronau. Because of his German background, he was also raised bilingually. In his youth he spent a lot of time in the Ruhr area. During the holidays he often came to the Overijsselse Vecht where his grandparents lived in Beerzerveld. Vecht would later play an important role in his regional novels. After living in Winterswijk, the Van de Werfhorst family moved to Vriezenveen. Aar van de Werfhorst attended the breeding school, but then became a journalist, initially in Germany. Later he developed into a literary scholar. He derived the pseudonym Van der Werfhorst from his grandmother's surname.
The writer must have been barely eighteen when he met his great love, the four-year-old Hein Vos. They left for Amsterdam together but Van de Werfhorst initially often went back to his homeland to write.
Before writing his books, Aar van de Werfhorst usually sought solitude. He wrote in a mill in Hellendoorn and a cottage in Ommen. After the Second World War, in which Van de Werfhorst had to go into hiding, he lived together with SDAP/PvdApolitician and minister Hein Vos. He also worked as his secretary.
After the war they moved to Wassenaar. "How can you describe our relationship?" Adri Maaskant thinks deeply. 'An intense friendship... For my part, there was no question of homosexual feelings. I've never been involved in that.' Van de Werfhorst and Vos were never secretive about their sexual orientation. 'They didn't care what others thought', says Maaskant.
In the post-war years, Van de Werfhorst's oeuvre became popular and his books were repeatedly reprinted. Some of his novels and stories were bundled in part of the Omnibusseries by publisher De Arbeiderspers. After the publication of the last part of the novel cycle the Lonely One in 1956, Van de Werfhorst remained silent. He barely wrote anymore and did not publish any new work for more than twenty years. It was only on the occasion of his 70th and 80th birthdays that small bibliophile editions were made with relatively new work. His health was inadequate and his last years Van de Werfhorst was confined to a wheelchair.
After the death of Hein Vos in 1972, Adri Maaskant became van de Werfhorst's 'agent'. Riet de Vries faithfully cared for the Salland writer for forty years. Maaskant often paid her out of her own pocket because she took a lot of work off his hands. "Pieter was a forceland, he could claim you." When Maaskant was still working in the Senate, he came to the writer in Wassenaar every week. In 1980 Maaskant became all but blind and the distant visits took more and more effort. The writer at rest has caused Maaskant concern for years. "I've been stirred for him," he says with a grimace. 'Pieter liked to live on a big footing but didn't have a penny. He loved nice clothes, good food and travel. Hein Vos had always supported him.' Regional culture expert Gerrit Kraa marvelled at the 'impressive bunch of fresh roses on the table (...) it must have been hundreds of them' when he visited Wassenaar. Maaskant chuckles. "Oh, my God. I gave it to him for his birthday in 1950. It had to be filled weekly with fresh flowers. I've often regretted that gift. I inherited everything, including his debts. But well, we made it.'
Maaskant saw his friend the night before his death in the nursing home. "Let's go see the gentleman," Riet asked. It was the last time. Riet thought "sir" had smiled at him, but Maaskant doubts it. 'I haven't seen it.' There were six people at the cremation. Riet sighed afterwards: 'I'm glad the gentleman is in the men's heaven now'. It was also 'a relief' for Maaskant. The writer Aar van de Werfhorst had not existed for 35 years. He had already left the man Pieter Jansen behind. 'He neglected our contacts in Overijssel', says Maaskant with regret. 'He'd rather be in well-to-do circles. You could say it fell up. I also don't know how to reconcile this with his first humble novels. He's become more and more outside.'
---
My published books:/p>

---